Thinking is both a gift and a curse and humanity's number one challenge. It's what makes us different from the rest of the animal kingdom and it is our gift of thinking that has helped us advance in every field we are aware of.
However, when thinking becomes overthinking, it is the number one factor that prevents us from living our lives to the fullest. If a person gets caught in the loop of endless thoughts that make other smaller thoughts become bigger and bigger, we quickly start losing touch with the rather simple reality we should be facing. (1)
Overthinking is the root of suffering for many, and it leads us to a debilitating and paralyzing state that doesn't allow us to take any action. And thought is useless without action, really.
So, how to eliminate this toxic mental pattern in your head? Here are 11 things you should know.
1. NO INSIGHT HAS EVER COME OUT OF OVERTHINKING
The only thing that overthinking will bring you is the drive to give up doing the thing you wanted to do. Why? If you start imagining every outcome of every possible scenario, you will not only end up in a dead-end, but you might even consider giving up on whatever you were thinking of because of the possible negative scenarios.
The truth is, no matter how much you think you can know, life's surprises and outcomes are not based on your knowledge and your logic. You will never know how something is going to turn out until you experience it. And even then, you won't know if you'll have the same outcome if that thing happens again.
In other words, if you want to do it, simply go for it. Be more spontaneous and trust your instinct.
2. NO DECISIONS ARE FINAL
Even if you make a decision, it doesn't mean that this decision is final. In fact, overthinking gives us the illusion that our decisions can't be changed or readjusted later on and that they have to be 100% correct.
The truth is, the decision is simply the starting step of the journey you are preparing yourself to take and it is one that will involve a series of other decisions based on the moment.
You should be comfortable with being wrong because in the end, even the seemingly 'worst' decision leads to some very good insights and revelations that can help you to perfect yourself. Knowing the outcome of everything simply makes life feel dull and uninteresting.
Pave your way one step at a time and don't think too much about what will happen. When it does, take the challenge and tackle it.
3. BE MORE PHYSICALLY ACTIVE TO TIRE YOUR BODY OUT
When given all the time in the world, one can't help but start overthinking. It's simple really – when you don't do something that engages you, you naturally start drifting away in thoughts.
So, why not set some goals you wish to achieve for the day? Engage yourself in some physically stimulating activities and turn your focus from thinking to doing something that will expend your body's energy in a healthy way.
Simply stand up and go jogging, do yoga, play with your pet, whatever makes you feel positive and engaged. Give your mind a break and start reaching tangible goals.
It's much more rewarding to use up the time that has been given to you and achieve something out of it than to waste it on thoughts that lead nowhere.
4. KNOW THAT YOU CAN'T KNOW EVERYTHING
You should be skeptical toward your thoughts – especially when they lead to some conclusions that aren't based on enough evidence and proper context. Simply ask yourself, 'Can I be 100% sure about this?'
You never can, really. Not until you see and experience it. There's a difference between beliefs and facts. You may feel like something is like that, but never underestimate the power of our mind to create illusions and misconceptions.
Wait for it and explore the facts in a more tangible manner. Until you reach the information you need, there's no point in thinking too much about what it could be.
5. PLAN FOR CONSCIOUS DISTRACTION
Overthinking gets intense at certain times of the day – just ask yourself: when do you get caught up in rumination the most? Whatever time of the day it happens to you most intensely, make a plan to create a distraction set exactly for that time. (2)
Simply do something that will keep you busy during that spare time and direct your thoughts toward the activity. It could be playing board games with your family, going out for a meal, playing Sudoku, doing yoga, or whatever you find interesting.
Whatever you choose to do, make sure it's going to turn into a healthy habit that doesn't harm you in the long run and that makes you feel fulfilled, positive, and relaxed.
It's better to do something interesting than go down the rabbit hole and end up feeling disturbed, stressed, and bad.
6. SERVE FIRST, SEEK SECOND: HELP SOMEONE ELSE TO GAIN PERSPECTIVE
We all have problems, and usually, problems lead us to overthink. However, being consumed by the thoughts that revolve around these problems not only leads you away from gaining perspective, but you also lose touch with the reality you should be perceiving.
A good way to gain perspective on your issues is to try and help someone else out with their problems. The act of helping serves to remind us that problems go hand in hand with life and that we are not the only ones that are being affected by them.
It's not that you'll get any discount on your struggles, but the mere act of helping will help you understand so many things about tackling problems in a way that your overthinking doesn't allow you to.
Helping others is a reward in itself. It mind-liberating and offers insights in ways that you can't imagine.
7. THE BEST MOVES ARE THOSE THAT ARE IN COORDINANCE WITH YOUR TRUE SELF
The decisions you make, no matter how they turn out to be, are the things that define you. So, act in accordance with your true self and trust your gut. Thoughts can distract you from the best of solutions and experiences.
The most important thing is to act with confidence and stand up for the things you believe in, always being true to yourself. You can't avoid challenges, and you shouldn't. People usually overthink because they are afraid to step out of the neat comfort zone they have created.
But don't forget – a comfort zone offers no pulse, no movement, and no change. Comfort zones equal death, challenges make life.
Source: Tiny Buddha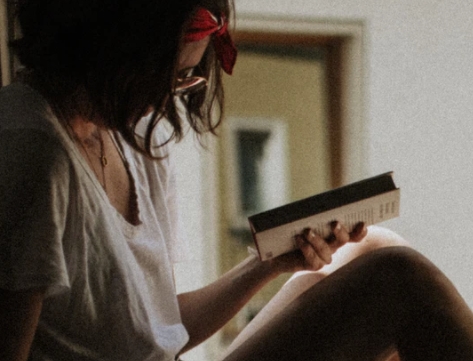 A professional writer with over a decade of incessant writing skills. Her topics of interest and expertise range from health, nutrition and psychology.