You thought overgrown nostril hair trend was weird? Well, wait until you see the makeup look which has recently hit social media. The curly eyelashes.
When a photo of this peculiar beauty trend was first shared on social media, it went viral in no time.
When makeup artist Sofie Peterseen posted a photo of her curly eyelashes on her profile on Instagram, the photo attracted the attention of a great number of social media users and sparked different reactions. Some people liked the way her eyelashes looked and others just laughed at her makeup look.
So, what about you? Do you think this makeup look is super cool or do you find it creepy?
Scroll down to check out some of Peterseen's photos and share your opinion with us in the comments section below.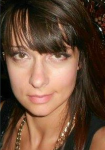 Riley Cooper is a professional writer who writes informative and creative articles on topics related to various fields of study. Written with love and enthusiasm, her articles inspire readers to broaden their knowledge of the world, think and get ready to act. If you have a general question or comment please fill out the form and we will get back to you as soon as possible https://curiousmindmagazine.com/contact-us/