It's really not my intention to try and give women some kind of definition of 'perfection' they should be following, as I am also sick of everybody telling people how they should behave and what they should look like.
And I don't like to give men the idea that perfect women are rare to find, as perfection comes from inspiration – it's not a fixed state.
However, this article is not about setting norms, but rather celebrating ingenuity and that precious gem every person possesses. It's about celebrating love in its highest form, which if present, one should never let go of.
We all have our differences that make us unique, and we all come together to learn how to work through those differences. Perhaps the greatest motivation for our constant efforts to become better people and to learn to live with one another is love. And if this love is between two specially bonded people, it's definitely something that they should be fighting for and never let go.
In today's crazy world, love has somehow lost its meaning, which makes it all more precious in the eyes of those who behold it. So, if you're genuinely in love and unsure whether it's being reciprocated, look no further and simply let your guard down, especially if you're with a woman like this.
THAT WOMAN WHO BY THE THOUGHT OF HER INSPIRES A SMILE, NO MATTER THE SITUATION
No matter the place, or the distance, the time, or your struggles. If the mere thought of her inspires that sweet smile in you, never let her go. This smile has little to do with events and a lot to do with who she is and what she stands for in your life – hope, happiness, excitement, the thought of a better future.
THAT WOMAN WITH WHOM YOU CAN JUST BE WITH
Without the need to do anything special, without the need to even talk too much when there's nothing special to talk about, but her presence is enough to make you feel good. Never let go of the woman who enjoys your presence as much as you enjoy hers and who can simply enjoy some quiet time with you without the need for anything extra.
THAT WOMAN WHO DOES SMALL THINGS FOR YOU
It's not only men who should be thoughtful and provide attention to those tiny things in life, while women wait like queens to be pampered. If your woman shows consideration for you, does small things for you, makes you feel noticed and cared for – never let her go.
THAT WOMAN WHO LOVES THE THINGS ABOUT YOU OTHERS TAKE FOR GRANTED
It's hurtful to think that people tend to take all that selflessness, kindness, and one's giving nature for granted. You begin to wonder whether they are worth possessing as traits and if they actually harm you more than they make you grow. The right woman for you will never take them for granted, though. She will love you for these things that can make you seem naïve. Never let that woman go.
THAT WOMAN WHO INSPIRES YOU TO BE BETTER THAN YESTERDAY
If there's one indicator that the right woman has walked into your life, it's the way she inspires you to become a better man and reevaluate your attitudes and perceptions. Not to intimidate you into changing, but to inspire you to grow. If your woman makes you feel like you can always do better for yourself, for her, and for the both of you – never, ever, let her go.
THAT WOMAN WHO MAKES YOU REALIZE THE THINGS THAT MADE EVERYTHING BEFORE FAIL
Break-ups are not uncommon, and it usually goes down to different things that lead to that breakup. But what made it not work out in the first place? When you meet that right woman for you, you'll find out what made it impossible for you to be with the previous. You will simply see the things that were lacking and made those relationships not work out. You will see them because they won't be lacking anymore.
THAT WOMAN WHO IGNITES YOUR PASSIONS, REAWAKENS YOUR DREAMS AND SUPPORTS YOUR GOALS
She doesn't have to do much, and still, she will reignite your forgotten passions and bring your dreams back. She will inspire you into achieving the things you once gave up on, and she will support you in your goals. And it takes so little to achieve this, but only if it's the right person.
THAT WOMAN WHO RESPECTS THE PEOPLE WHO ARE IMPORTANT TO YOU
Not everybody needs to like everyone, but that doesn't mean that she cannot respect the people you find important. The right woman will respect everyone you love, simply because she will trust your heart. You will know that you should never let her go when you see how fine the people you love feel around her, and how nice she is toward them without expecting any personal gain.
THAT WOMAN WHO MAKES YOU HAPPY
And in the end, no matter the positive and negative aspects we all possess, no matter the misunderstandings that may sometimes arise, and despite the quarrels that are there to make your relationship grow – if that woman makes you happy to be alive and gives you the purpose you've been lacking – never let her go.
The truth is, we all need happiness in our lives. No matter what you read, as to what kind of person you should be with, know this: BE WITH THE PERSON THAT MAKES YOU HAPPY. There will always be differences that divide, but you should focus on the bridges that connect.
Relationships, like everything else in life, aren't easy. And the more beautiful it can get, the more challenging it will prove. So, relax and enjoy the rollercoaster of love. Find the woman who makes you happy, and never let her go!
Inspired by: James Michael Sama
Image: @obodnikova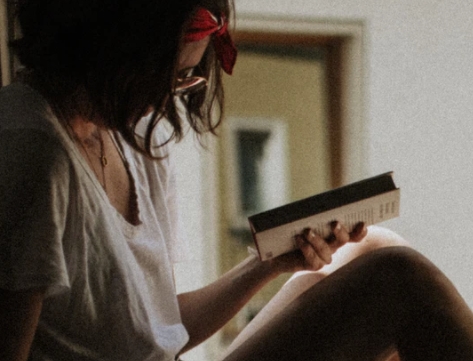 A professional writer with over a decade of incessant writing skills. Her topics of interest and expertise range from health, nutrition and psychology.