Swiss photographer Tiziana Vergari shared a picture on her Instagram profile that left thousands of internet users baffled.
This photo is greatly confusing social media users as they find it hard to determine how many girls there are in the photo. The photo has gone viral in no time, and considering the fact that it gathered over 4,000 comments, it appears that no one can agree on how many girls are posing in it.
What about you? How many girls do you think there are in the picture? 2, 4, 6, more?
Are you impatient to find the answer?
Well, you're lucky because Vergari decided to put an end to the misery of all social media users out there. And the answer is …
Two. Yep, the photo contains only two girls sitting by some mirrors.
And, please, be honest – was your answer two too?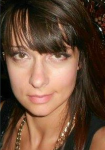 Riley Cooper is a professional writer who writes informative and creative articles on topics related to various fields of study. Written with love and enthusiasm, her articles inspire readers to broaden their knowledge of the world, think and get ready to act. If you have a general question or comment please fill out the form and we will get back to you as soon as possible https://curiousmindmagazine.com/contact-us/