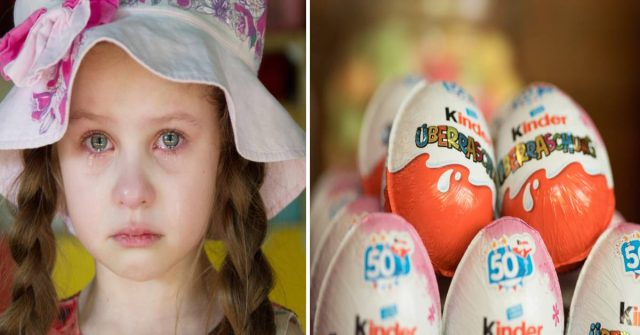 Kinder Surprise Egg 2022 Salmonella Outbreak
Chocolate manufacturer Ferrero recalled some batches of Kinder Surprise egg in Europe after the salmonella Kinder chocolate outbreak in England.
The number of cases of salmonella in the UK has reached 63, and it was mostly for small children aged five or under. Fortunately, no death cases have been reported so far because it can be very dangerous for infants, the elderly, and children under age 5.
The Food Standards Agency in the UK has confirmed that all Kinder eggs have been manufactured in a factory in Belgium and best before dates between July 11, 2022, and October 7, 2022.
Chocolate manufacturer Ferrero sincerely apologized and recalled some of its Kinder Surprise batches on 04/05/2022. The company also issued a statement saying that none of its products have been tested positive for salmonella so far and hasn't received any customer complaints about the product.
As a precautionary measure, people in several European countries are advised not to eat them and if they have symptoms of salmonellosis should contact their health provider. Salmonellosis symptoms can be upset stomach, diarrhea, fever, stomach pains, headache, and loss of appetite. (1)
Kinder Surprise Chocolate egg
Kinder Surprise Chocolate egg is a unique treat for every child. It is a milk chocolate egg that houses a plastic capsule inside with a hidden surprise toy.
Children love toys and love to be treated with special surprises. They are curious and eager to know what is inside and they are excited every time they open it and feel they got a small reward. Kids love rewards, and this is what Kinder Surprise offers them!
Moreover, they love chocolate, and the total milk chocolate constituents of Kinder Surprise is 32%, making it a delicious milky flavor and unique taste.
It offers three different enjoyable experiences:
Smooth chocolate and a milky filling

Excitement and surprise of discovering an interesting toy inside ( each series has 70 new toys every year)

Each toy has a different theme, color and different assembling
Kinder Surprise Brief History
This popular treat is made by Ferrero, an Italian brand founded by pastry chef Pietro Ferrero in 1946. Ferrero is one of the biggest chocolate manufacturers in the world, and some of their products like Ferrero Rocher, Tic Tac, and Nutella are very popular worldwide.
It was in 1968 when Michele Ferrero came up with an idea to reconstruct the Italian Easter tradition when Italians gave their children a large chocolate egg with a toy inside. It started with the production and worldwide distribution in 1974 when he hired William Salice to help him to realize the idea, which he got 7 years before. The idea was to find inside the chocolate something small, memorable, and enjoyable.
They were surprised with their success and with the fact that these eggs are popular all year round, not just for Easter. And it grew beyond children, so you will see many adults enjoying and buying them. In fact, some adults even collect the small toys that can be found inside the egg.
Since then, 15 000 different toys have been invented and collected around the world since its creation, and 30 billion of these eggs have been sold.
Kinder Surprise Egg Ingredients
This is the list of all the ingredients found in a Kinder Surprise Egg.
47% of fine milk chocolate

Sugar

Cocoa Butter

Cocoa Mass
Milk Powder

Sugar

Emulsifier: Lecithin (Soya)

Vanillin

Milk Powder (skimmed)

Vegetable Fats (Palm, Shea)

Concentrated Butter

32% – whole milk constituents

15% – whole Cocoa constituents
Kinder Surprise Eggs Nutrition
| | | | | |
| --- | --- | --- | --- | --- |
| Typical values | Per 100 g | | Per egg (20g) | % RI* per egg |
| Energy | 2302 kj/552 kcal | | 459 kj /110 kcal | 6% |
| Fat | 34.2 g | | 6.8 g | 10% |
| Saturates | 22.6 g | | 4.5 g | 23% |
| Carbohydrates | 52.3 g | | 10.5 g | 4% |
| Sugars | 52.1 g | | 10.4 g | 12% |
| Protein | 9 g | | 1.6 g | 3% |
| Salt | 0.323 g | | 0.065 g | 1% |
Is Chocolate Safe And Is It Possible To Contain Salmonella?
Cacao beans are grown in the ground and, similar to other products grown in a similar way, are suspectable to contamination by many different contaminators.
Contaminators That Cause Salmonella In Chocolate
Dirty water

Improper handling

Animal waste products

Animals walking through
How Is Salmonella Prevented In Chocolate Products?
All the manufacturers try to destroy all the pathogens like Salmonella and E.coli bacteria by dry roasting or steaming the cocoa beans at high temperatures. It is also very important to keep the raw and the finished products apart during the production process. (2) (3)
U.S. Food and Drug Administration's Food Safety Modernization Act was signed into law in 2011, and new regulations were implemented after a salmonella peanut outbreak in 2008 in the United States. All the manufacturers, including the chocolate manufacturers, need to implement systems to control all the risks associated with the production process, from raw material to distribution.
There were some salmonella chocolate outbreaks in the 1970s in Europe and the bacteria was traced in the cocoa beans. So, be careful when buying chocolate and avoid those that come from raw or unpasteurized ingredients.
Kinder Surprise Eggs Are Banned In The United States
The Federal Food, Drug, and Cosmetics Act prohibit them as they contain a product that is not nutritive and bans all candies that embed a toy or a trinket in it. (4)
In addition, this may be because the tiny object can be a choking hazard for the little ones, although there is a warning on the product that is not suitable for children under age 3.
However, another Ferrero product, Kinder Joy, is available in the United States since the chocolate part and the toy are both separated in this product. Not everyone is thrilled with this new invention, but it was invented mainly for safety reasons.
What Happens If You Bring A Kinder Egg To The U.S.?
Kinder eggs are banned in the United States and cannot be imported. In case they are imported, they will be confiscated and destroyed after your bag is searched by Customs at any point of your entry back into the United States. The official fine can be as high as 2500 $ if you are caught up with this contraband candy.
Kinder Surprise Eggs Are Popular In Germany And The Product Is Legal
Kinder Surprise Eggs are quite popular in Germany and are popular with adults, teens, and children. People collect them and you can even buy them as vintage toys and as closed capsules if you are a collector. This product is not illegal and
Some batches of this beloved and popular treat were recalled in Germany on Tuesday, 05/04/2022, after the salmonella Kinder chocolate outbreak in the U.K. as a sign of precaution.

Mary Wright is a professional writer with more than 10 years of incessant practice. Her topics of interest gravitate around the fields of the human mind and the interpersonal relationships of people.If you have a general question or comment please fill out the form and we will get back to you as soon as possible https://curiousmindmagazine.com/contact-us/ .