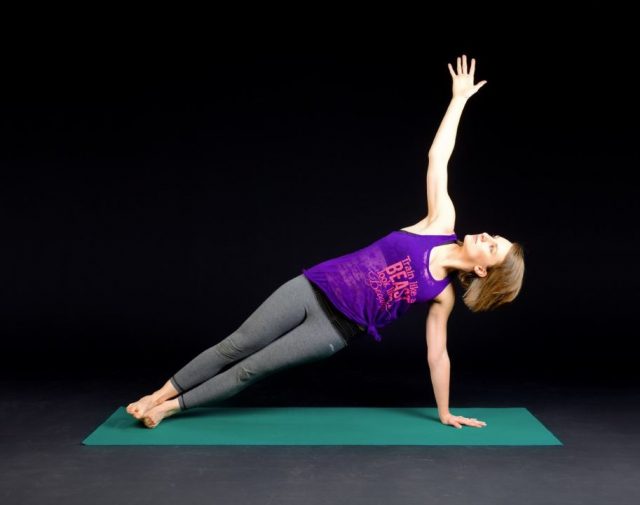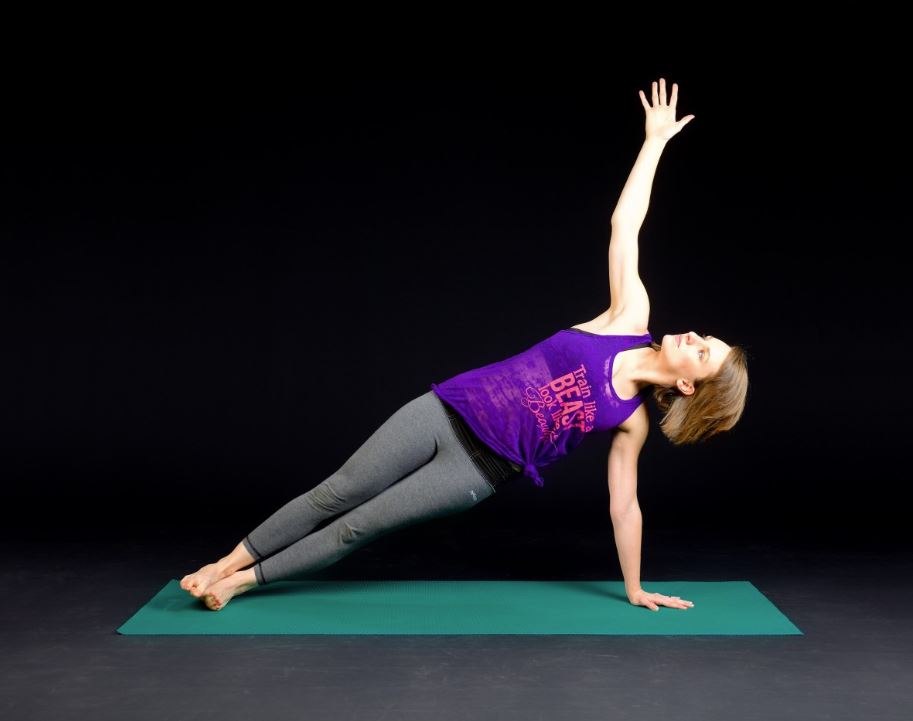 From the creator of the myofascial SELF-massage tool and the worldwide phenomenon FasciaBlaster sensation,
Meet Ashley Black, creator of FasciaYoga and the FasciaBlaster.
"Having suffered from a debilitating form of arthritis as a child and severe bone damage from an aggressive bone infection, I am happy to share a small portion of my healing journey with the world. I am an avid student of the Bhagavad Gita and practice strict Hatha physical yoga. So in some respects, FasciaYoga is a type of what I jokingly call 'faux-ga,' because it's a new type of yoga I personally created, when my core belief is that you can't invent new yoga. However, I do believe you can reimagine it, and that's what I tried to do with FasciaYoga. I took my knowledge of fascia and the human structure, incorporated it into purposeful stretches, adapted it to all ability levels, and included the FasciaYoga Ball to allow for joint traction and stretching specifically of the fascia. I also wanted yogi's, meaning those who have chosen a path of union with God through meditation, to be able to incorporate their disciplines while performing FasciaYoga if they so choose. It was a very intentional and mindful design for me to be all inclusive. The goal is to open the body in a completely new way creating flexibility beyond what you could imagine in a shorter period of time, as well as creating energy by opening channels of energy that could be trapped in the myofascial tissue. FasciaYoga is meant to be totally transformative, in performance and in reshaping and remodeling the tissue and therefore the body."
Black goes on to explain, "Peer-reviewed and published studies already show in ultrasound imaging that the fascia can begin mangled like a dreadlock inside the muscles and other structures to smooth and detangled in just 90 days by using the FasciaBlaster tools. For a yogi or yoga enthusiast, this is very exciting, because fascia is fluid filled which means it conducts energy, so untangling fascia will allow for the maximum amount of energy flow. Where FasciaBlasting leaves off and, in part, why I invented FasciaYoga, is that FasciaBlasting combs out fascia all over the body, but it doesn't specifically target elongating the long lines of structural fascia that can compress, twist, tilt or curve our physical structures. FasciaYoga is the ultimate addition to FasciaBlasting if the goal is to be aligned, flexible, with open joints and maximum energy flow. I feel like I was put on the Earth to make very complex concepts and science, digestible for the everyday person, and I hope FasciaYoga will become beloved by all, and used as anything from a quick stretch of the hamstring after a workout to a full blown FasciaYoga practice."
My Interview with the Fascia Guru:
"As a busy full-time freelance journalist and a yoga class "dabbler," I found a way to incorporate FasciaYoga and FasciaBlasting into my daily routine for six weeks this summer. Note: I call myself a 'dabbler' but I would not take that to mean 'enthusiast.' Stretching my body has never come without stress, strain and painful effort for all of the men in the Caton clan. With that said, here is my personal experience and my advice to those thinking of adding Ashley Black's New Fascia Yoga classes to their daily routine. I hope you enjoy the lay person's perspective.
– J. Caton, Freelance Digital Journalist
Meet Ashley Black's FasciaYoga.
J, Caton
FasciaYoga (as defined by Ashley Black) – The place where fascia therapy meets yoga techniques to take your movement to a new level.
The New and Modern Way to Honor the Traditionally Spiritual Practice of Yoga?
First, a little history: The art and practice of yoga originated in ancient India around the fifth or sixth century BCE. Original Yoga practices from Indian tradition combine the three states of being (mental, physical and the spiritual) creating an innately meditative and spiritual center to the practice. Outside of India, the focus is typically on a series of stretches that are performed to strengthen core muscles, provide stress-relief and relaxation in a world that is not in the habit of offering such gifts in its daily practices.
Ashley Black hoped to stay true to the historic essentials of the Yoga art form while at the very same time wanted to transcend and elevate FasciaYoga to support and protect the body's muscles and organs in a whole new way.
My First Impressions of FasciaYoga
First off, the best part of FasciaYoga was my ability to do it at home! I didn't have to go to the gym or schlep my yoga map to the local studio, only to feel the wrath of The Yoga Teacher That Shall Not Be Named when you are 3-minutes late to class. With FasciaYoga, all of the stretching assignments come directly from your mobile device via Ashley Black's free FasciaYoga App and you control every variable of the yoga class. You go as fast or slow as you want. An at-home workout and on my iPhone, I was already sold.
FasciaYoga's App
The app currently sports an overall 4.1 solid star rating, but I would add a few points to that score after download and first use. The user experience is simple, straight-forward and my lack of technical understanding did not slow my first class down one bit. Ashley Black herself leads you through the app experience and 'guides you through each traction and stretch, taking your knowledge of fascia to the next level.'
After a quick intro video that plays automatically when you first open the application on your phone (or iPad), you are given the choice of two major views: Body Map View or All Videos. Use Body Map View. Just do it.. This view of the app gives you the ability to toggle between a front, side and back view of the body. And the coolest feature: with each view of the body, you can tap a body part that you want to stretch and viola. The body part is isolated on your screen and quickly Ashley Black is on the screen with fascia knowledge for that body part and a host of FasciaYoga stretches targeting that body part specifically.
This feature of the application only furthers the idea that you are in control of your own yoga class and should feel comfortable moving forward with the tutorials at a pace that is best for you.
Ashley Black knows apps and FasciaYoga benefits highly from its digital sidekick.
Ashley Black Gives Yoga a New Shape
A reshaped yoga ball that specifically targets the stretch in the fascia layer underneath your skin is another interesting feature that sets FasciaYoga apart from its predecessor. Size, color, and brand of FasciaYoga ball can vary but click here to see the variety.
Beyond having the entire collection of FasciaYoga exercise videos with you 24/7 via the app and your new bean-shaped FasciaYoga Ball, this new posture-focused exercise initiative from Fasciology and biomechanical performance expert, Ashley Black offers a host of exciting new features to get the avid Yoga Pro interested, but most importantly Ashley Black designed this workout to adapt to ALL ages, fitness levels and abilities with only a few modifications here and there.
So far, FasciaYoga is scoring excellent marks for convenience and digital sophistication, but I still have not actually walked through any of the videos or even pretended to stretch a single part of my body. This is where it all falls apart for this fascia novice. Sorry, Ashley.
My First FasciaYoga Class
A serious pep-talk was needed before beginning the class. It was like Ashley was reaching out of the app and whispering to me:
"OK… take a deep breath, J. Go at your own pace, stretch without hurting yourself, no one is pushing you past your limits and you should not feel the need to speed up at any point. I'm your super support, and remember that you can incorporate the FasciaBlaster products and your daily FasciaBlasting routines (which you have consistently done for two weeks now, I've been watching) into your FasciaYoga. You can do it, J. There's nothing to it. You can do it!
Thank you, Ashley.
NOTE: The app does not generate pre-class pep talks from Ashley to the FasciaYoga class participants, but if we were in a studio live… the above is my version of her best pre-class pep-me-up.
Pep-Talk Ashley Black from my imagination was right! Before I knew it, I was several short videos into the first class, my right leg was balancing on the ball at something like a 90 degree angle, sweat clumped at my hairline in armies and rolled off my brow in buckets, and Ashley was coming at me with those positive words of encouragement from my iPhone as I worked my way through various stretches hitting every known part of my 40-something tightly-muscled physique. . I was half way through my first class and I was a sweaty catastrophe, but I was enjoying myself.
By using the FasciaYoga Ball and controlling the pace of my FasciaYoga stretches, I was able to free myself and feel the true depth of connection and harmony meant to be achieved from these types of physical meditations.
With one FasciaYoga class under my belt, I could already feel myself headed to a place of alignment between my body and mind. My muscles and fascia were still tighter than a camel's backside in a sandstorm, but I could feel the progress.
Who Put the Fascia in FasciaYoga?
As I said earlier, I started using the FasciaBlaster a few weeks prior to the first class. I would recommend the same process to any newcomer. You will, however, need to select the correct set of FasciaBlasting equipment prior to your start.
The FasciaYoga Starter Kit
You can easily get started by picking out a few of the basic FasciaBlaster tools that you will want to incorporate into your FasciaYoga training.
How will I know which ones I need? The FasciaBlasting team has made FasciaYoga class prep a snap to accomplish by combining the most popular and useful products from Ashley Black Guru into a convenient all-in-one FasciaYoga starter kit that incorporates everything needed to succeed. The FasciaYago Starter Kit even includes a copy of Ashley Black's book. I did not read it prior to the first class but once I did, I realized that the helpful hints and secret tricks that Ashley shares in the book are so important and will make your experience that much more fluid.
FasciaYoga starter kits are available on Ashley Black's website at www.ashleyblackguru.com/collections or can be purchased when you download the FasciaYoga app (for iPhone at the App Store or Android at the Google Play Store).
Each starter kit will include the following:
The MasterBlaster from FasciaBlaster
The MasterBlaster is the ultimate chameleon of the FasciaBlaster family. The MasterBlaster can be used as a prep tool used with light pressure, but can also be used in advanced stages with deeper pressure. The ever malleable MasterBlaster also works as a preparatory tool. This can be achieved when you use a light, brisk motion at the surface layer of the skin.
The MasterBlaster can act as a refining tool as well using advanced FasciaBlaster techniques. Ashley Black's MasterBlaster combines the specificity of the FaceBlaster with the reach of the original FasciaBlaster. Nine small claws attached to a sleek, lightweight bar come together to create MasterBlaster. You will receive full-body FasciaBlasting coverage during your FacsiaYoga sessions when you utilize the assistance of MasterBlaster.
The Mini 2 from FasciaBlaster
The Mini 2™ from Ashley Black Guru allows for one-handed FasciaBlasting. You can deploy all the safe and effective techniques used with the #FasciaBlaster® in hard to reach areas. The Nugget tips on the Mini 2™ allow for smooth transitioning between FasciaBlasting and trigger point therapy. It's perfect to fit in your suitcase for "on the go" FasciaBlasting sessions. The Mini 2™ is ultra versatile and a must-have for @FasciaBlaster® and FasciaYoga participants!
The Cellulite Myth; It's Not Fat. It's Fascia co-authored with Joanna Hunt
Ashley Black was featured on NBC's The Today Show when the book hit stores. It was an instant success and flew off the shelves.
Now, it's a USA Today Bestseller! And a New York Times Bestseller!
Quoted by the Ashley Black Guru team as "The last book you'll ever need about cellulite, and the first book you need to take control and enhance your health forever!"
Some people call Ashley Black, THE fascia pioneer. Others know her as the fascia guru to the stars. Google: 'FasciaBlaster Kardashians' and I think you'll get a feel for her celebrity reach. Kourtney is happy as a clam and cellulite-less in the clip that aired on the show.
Facts You Will Learn When You Read The Cellulite Myth:
Ashley Black's mission is to unveil never before known secrets about fascia to help cellulite, which is a by product of fascia and to help locally calm aches and pains through fascia manipulation.

For years we've been conditioned to believe that cellulite is a fat problem, yet most ALL people, big and small, fat and thin, have cellulite issues.

Actually, 90% of women struggle with the appearance of cellulite is one way or another.

The biggest truth about cellulite is that many, many women (and men) of all shapes, sizes, ethnicities, heights, and personalities suffer from the appearance of cellulite. YOU ARE NOT ALONE! So let's go to FasciaYoga Class!
Why Choose FasciaYoga?
(The Bullet Points)
It allows for a variety of stretching levels from the newest beginner to the most seasoned guru.

Stretches designed to specifically target the stretch of fascial and muscle fiber.

Increases range of motion.

Decreases any tension or restrictions in your soft tissue

Provides Tractioning to open up space around your joints and tissues

Increases blood flow

Increases muscle performance

Increases neurological activity

Allows for easier interactions between your fascia layer and your muscles.

Changes the state of fascia to be more pliable

Actively enhances your other fitness and stretching initiatives
New Customers Should Try A Demo Class
Try out a FasciaYoga demo class, and I am confident, as a novice turned true enthusiast, you will enjoy the experience and feel the FasciaYoga difference. Remember that it is beneficial to exercise and to use the FasciaBlaster tools for a small amount of time before participating in the class. You will be thankful that you did.
The demo class is offered on the app, so your start time is and will always be as flexible and convenient as you need. At The FasciaYoga Studios, the Instructor waits for YOU!
Online Classes Via The FasciaYoga App
So many of us spend the better part of each day in the same chair, staring at the same computer screen day in and day out. FasciaYoga's exercises offer you a total body workout and stretch. The app is filled with courses taught by Ashley Black and designed to get your body moving. You will begin to feel a loosening of tight, tense muscles as well as a release from the layer of fascia above.
FasciaYoga classes are suitable for all levels; beginners to the more seasoned, advanced students. Ashley Black brings the FasciaYoga experience directly into your home. She will support you and guide you every step of the way so that even the loudest naysayers will find themselves hooked.. One thing that I know for sure is that I always find myself looking forward to tomorrow's FasciaYoga session with excitement. Try it once. I promise you will feel it too.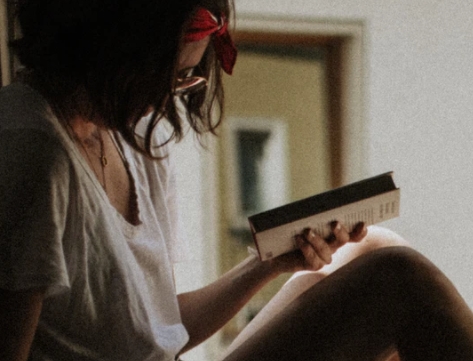 A professional writer with over a decade of incessant writing skills. Her topics of interest and expertise range from health, nutrition and psychology.