If you thought that the category of social media celebrity can only be assigned to most famous singers and Hollywood stars, Wiley, an adorable Dalmatian dog, proves that you are awfully wrong.
The one-year-old, cute puppy shoot to great internet fame for his heart-shaped nose. Wiley's 149k Instagram followers as well as everyone else who meets him simply can't get enough of his cuteness.
Lexi Smith, Wiley's human mother, regularly posts photos of him on their Instagram profiles, and the pictures show that he's a great fan of hiking and playing with his mom.
When Smith adopted him, she wasn't sure whether the marking around his little nose was going to stay as the puppy grew, but this pup still has his heart-shaped nose. She describes him as: "54 pounds of goofy, clumsy, sassy, hungry, cuddly, curious, wild, crazy, silly, happy love."
Let's take a look at some of Wiley's photos below. This way, you can see how adorable he is for yourself.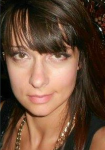 Riley Cooper is a professional writer who writes informative and creative articles on topics related to various fields of study. Written with love and enthusiasm, her articles inspire readers to broaden their knowledge of the world, think and get ready to act. If you have a general question or comment please fill out the form and we will get back to you as soon as possible https://curiousmindmagazine.com/contact-us/