Most parents send their kids off to bed with a bedtime story, or by reading their favorite children's book. And reading to your kids is very beneficial, as many studies have pointed to how much it can benefit their development.
As Neuroscientist Erin Clabough Ph.D. explains, reading to your child has become "the bare minimum a parent must do to ensure success." However, there's a catch to all of this. The thing is, many parents read to their children to make them sleepy, or because it will give them something to write about in their school reading logs.
And there are those times, as Clabough explains, when we can devote some more attention and where we'll get into doing different character voices, expose them to the wondrous worlds of the books, or help them understand an important life lesson.
And while this may be a kind of start, you should be aware that there is so much more to books that can be useful than that. And the best way to achieve their full potential is, as Clabough puts it, to "stop reading to your children and start engaging them."
It has been found that adults who read literary fiction can understand the mental states and empathize with others much better. This is because in such fiction, the reader can get a deep insight of the character's feelings and inner thoughts and through this insight, they can fill in the gaps between the characters' personality and their motivation and perspective.
This process simply strengthens the reader's innate sense of empathy.
The main difference between adult literary fiction and children's books is that the stories for children don't contain such complexity in writing and nuance.
However, if approached correctly, "any book can be used to foster empathy and decision-making skills. Even terrible books," explains Clabough.
And you can achieve this by allowing your kid to reflect upon the story and become involved in the story through making decisions. Simply put, making a pause in the story and asking your child what they would do if they were the hero of the story allows them to put themselves in the shoes of the characters and reflect.
"Reflection allows a child to actively practice making decisions, rather than passively listening to the book. That active practice results in synaptic changes and strengthening of neuronal pathways in your child," says Clabough.
Which is more, this habit of allowing your child to imagine themselves in such situation and live through the experiences of the main character allows them to practice empathy, as empathy itself means putting yourself in the shoes of others.
And the benefits of enhancing your child's empathy skills? Clabough says that people with empathy are more satisfied with life, have better relationships, become better bosses, coworkers, negotiators, and friends.
So, let your children choose their own adventure before you continue reading the story, and see how they think the problem can be solved.
She compares reading a book to your child without pausing for reflection as "plopping them down to watch a movie."
"We've been sucked in by the plot, and we're dying to know what happens. But we're still on the outside, watching someone else make decisions," explains Clabough. "The real magic happens inside our own heads when we try on someone else's life."
And the best time to help your children learn to make more decisions and become more empathetic? Right before bedtime, reading an engaging story and involving them in the plot.
Source: Psychology Today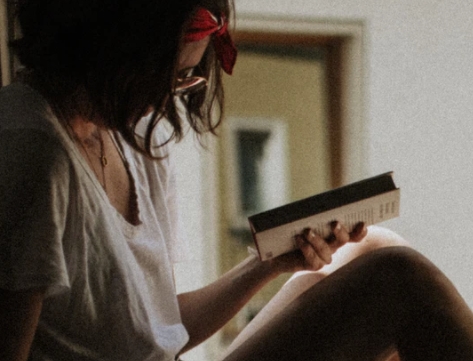 A professional writer with over a decade of incessant writing skills. Her topics of interest and expertise range from health, nutrition and psychology.