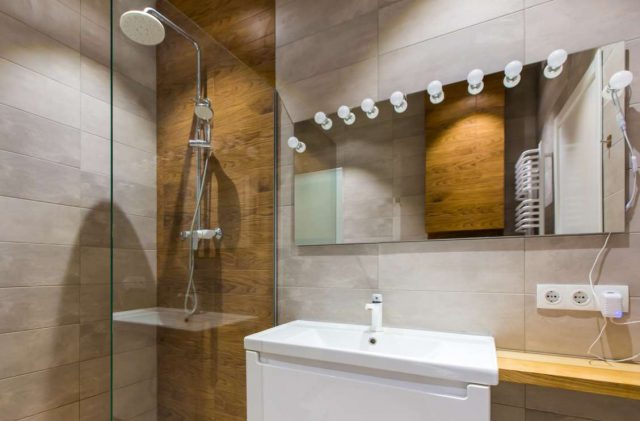 A small bathroom is no reason to give up on a stylish and modern layout. Having thought everything through correctly, you can turn a small room into the most comfortable and attractive room. And some relevant tips and tricks for visually expanding the space can help with this.
HOW TO DESIGN A STYLISH BATHROOM IN A SMALL APARTMENT
To conveniently plan a bathroom, you should consider some critical points in advance. To do this, you can think about the following questions:
Is it possible to make a bathroom in one room, or is it essential to separate them? If you make two separate rooms, the bathroom will significantly reduce their size due to the partition.

What should different devices avoid? Ideally, the bathroom should contain only the bath or shower, a washbasin, and a toilet. A washing machine and other appliances can be assigned in the kitchen or the hallway.

Is it possible to ditch the bathtub and replace it with a compact walk-in shower that also saves water for the family?
Creating a beautiful and, at the same time, functional design of a room is not an easy task. However, thinking about the above questions will help put together an approximate picture of future repairs in your head. (1)
WOODEN BATH TRAY
Enjoy a spa-like experience with a bamboo bath tray from Royal Craft Wood. This wooden bath tray is made of eco-friendly sustainable bamboo wood, designed to fit any tub size, and has built-in slip-resistant pads to make your bath time comfier. You will ask: "How is it possible?" This bath tray has a wine glass holder, cup, or candle holder, can safely hold your smartphone or an iPad, and also has a built-in book/laptop holder. Enjoy your time with the breeze of luxurious comfort. Take your bath tray!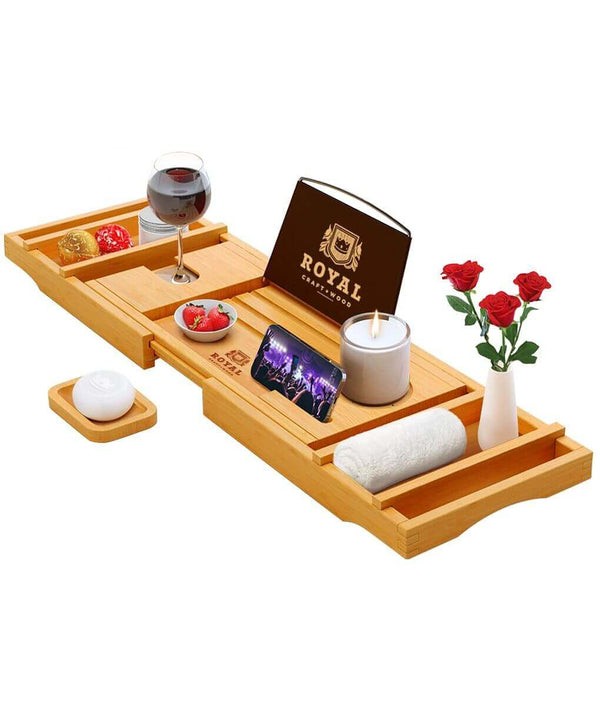 FEATURES OF THE LAYOUT OF A SMALL BATHROOM
Now that a particular scheme of actions has developed, it is necessary to proceed to plan details. Consider some features of the arrangement of objects, depending on the availability of certain plumbing fixtures.
The best solution for a small bathroom would be a shower. Unlike a bath, it takes up little space and at the same time gives no less pleasure from bathing. In addition, modern cabins have various modes that allow you to adjust the pressure and temperature of the water.
It is better to choose open-type corner models. They lack side panels and top. The bottom of the cabin must be deep enough to prevent accidental flooding. Doors are best to choose transparent, sliding, without unnecessary details in the design.
For a harmonious appearance, you need to choose the right style for decorating the room. A classic, delicate design is not suitable for a room without a bath. Also, country style with sparkling glass and metal will not look. The best solution would be loft, modern, minimalist, or high-tech.
WITHOUT TOILET
Even though we recommend combining a bathroom with a bath in apartments, this option is not suitable for a large family. If several children are in the house, it is better to make the toilet separately. And in the bathroom, place a standard set of items for bathing and washing.
Repairs are best in a modern or minimalist style. Do not use any fancy decorations and bright colours in small rooms. Details should be as few as possible. An excellent solution would be a Japanese interior. It is Asians who know best how to turn a small room into a real work of art.
WITHOUT SHOWER CABIN
If family members do not want to shower and still insist on a bath, you should pay attention to the corner views. They take up much less space than their standard counterparts. In addition, such baths are now at the peak of popularity.
A corner bath can give a zest to the room's design and make it more modern. At the same time, you can find many multifunctional models with hydromassage and other valuable features in stores.
If the container is tiled, choosing a light mosaic that does not hurt the eyes is necessary. Also, additional lighting in the bathing area will not be superfluous.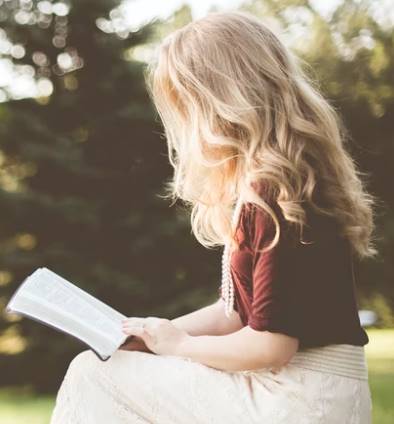 Speaks from heart, always too passionate and driven by emotions. Spins the words with kindness & sharpness, intriguing your ever-inscrutable minds.