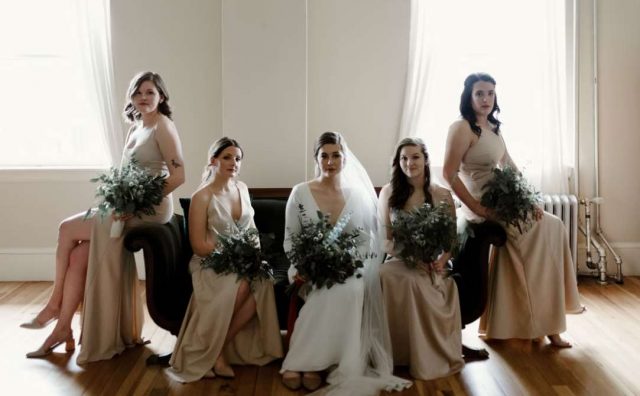 Although picking up a wedding dress may be one of the most difficult processes when planning a wedding, choosing a bridesmaid dress can be a task that requires a lot of time and effort. You, as a bridesmaid, may have different body shapes, sizes, and style preferences that differ a lot from those of the bride.
In addition, the whole wedding must look like a cohesive party, and the dresses should match in style, so you would not like to wear a vintage dress if the wedding dress of the bride is super trendy. They will mismatch completely.
No matter your personal style and the wedding gown the bride has chosen, thanks to our bridal friends we have the best bridesmaid dress shopping tips for you to have a flawless shopping experience and choose the perfect bridesmaid dress that can match all wedding dress styles and are perfect for all location. In addition, they are great for your budget and come at a price under $100. (1)
1. Do some research on what you like and the wedding dress the bride has chosen.
Explore Google, Pinterest, and pages of wedding magazines, and check what celebrities wore to better visualize your dress and have always in mind the wedding dress the bride has chosen, especially the color. Make a connection, and maybe you will find some things you have in common when it comes to likings – an open back, voluminous or lacy dress, or a bridesmaid dress with bared shoulders?
Check out this flirty choice with bared shoulders, and a flattering halter neckline, that comes in a satin charmeuse fabric. It will make you feel wonderful at the wedding. It is a great choice for ladies with all body types. And it comes with a price of just $99.99.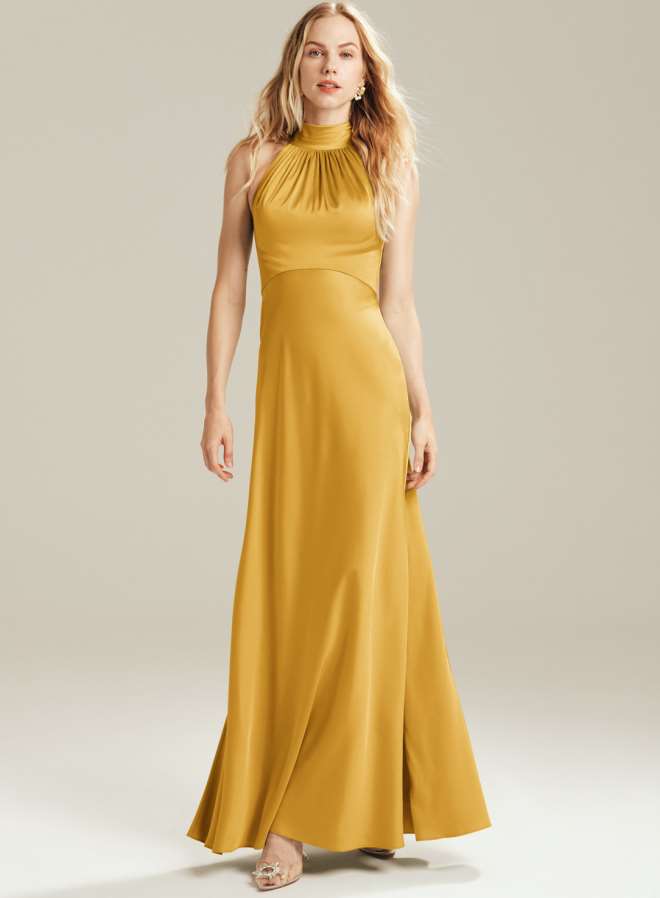 https://www.awbridal.com/aw-janina-dress-awlflw211u44cp.html
2. Shop true to your size
Even though you try to lose weight before the wedding, losing weight is a challenging experience, so it is better to follow your current size and ensure you can breathe inside the dress. The best choices are always comfy and make you feel like a normal human being.
Check this bridesmaid dress that comes in different colors, it is very comfy and elegant, and you will feel beautiful and comfortable and do not have trouble going to the facilities or walking and dancing on the dance floor.
3. Time and location
You probably know the time and the location of the wedding, and you should focus on this when buying your bridesmaid dress. Avoid short slip dresses and ball gowns that are dramatically embellished, and always choose the suitable fabric that somehow matches one of the wedding dresses of the bride.
Try velvet or brocade for winter, and satin or linen for spring and summer, although most fabrics are comfortable all year round.
This velvet Stretto dress with straps leaves is excellent for winter weddings and comes with a built-in bra.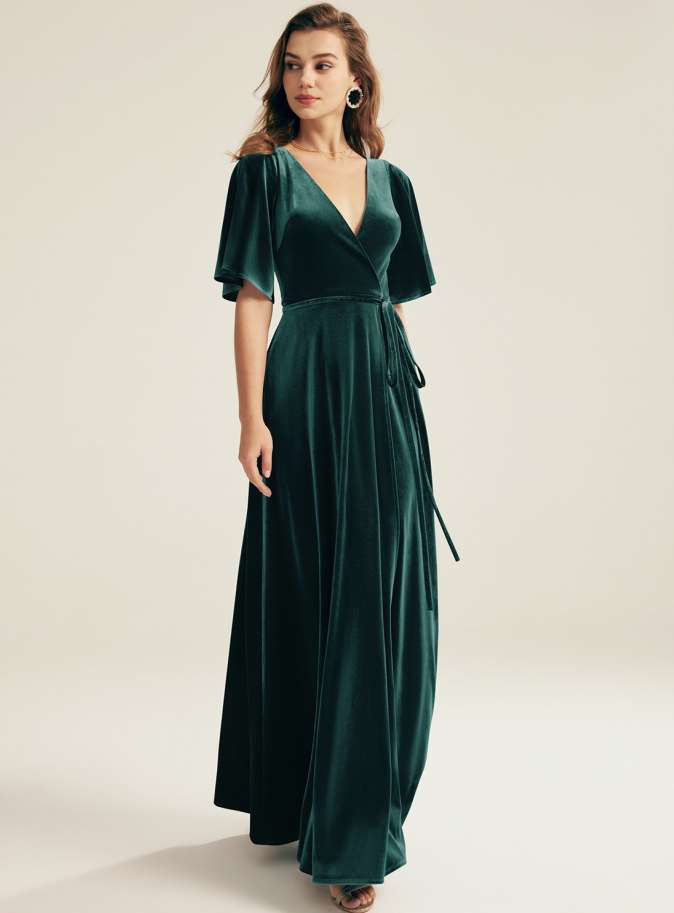 https://www.awbridal.com/aw-stretto-dress-awlf220u23cp.html
4. Figure out your budget
Always consider the budget you have to spend; this will help you choose your bridesmaid dress easier. It will definitely narrow your choices. In some cases, you can choose the dress, and then they will tell you the price, that might be a surprise.
This elegant satin dress with puff sleeves comes at a great price under $100, and you can save a lot on your budget, and it is great for cleaning and preserving it after the wedding if you want to keep it.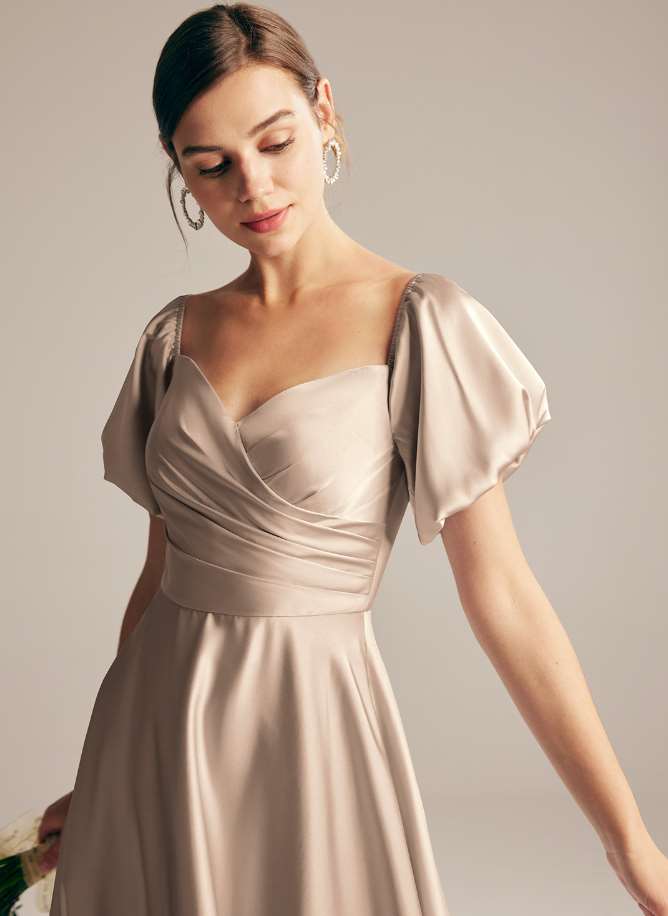 https://www.awbridal.com/aw-dey-dress-awlf220u38cp.html
5. Find a store with a good reputation
Find an online store that has great online reviews and customer service, so you can make an appointment or buy the dress without wasting a lot of time. You can always be honest and upfront with them about your budget and ask them not to show anything that is over the budget you have.
We have prices that will be great for your budget and have a good online reputation and are ready to ship the bridesmaid dresses at any time you like. They come in all different sizes and colors, and you can always buy some perfect accessories that come just perfect with your bridesmaid dress, such as this Rhinestone Flower Hair Vine embellished with pearls and crystals, but make sure it matches one of the brides.
6. The Style Factor
When you choose the color and the size of your bridesmaid dress, you should know that it should complement the wedding style. However, you should also feel beautiful at the wedding. Our bridal friends have bridesmaid's dresses that match almost every color and wedding style, and you will feel beautiful and comfy in them. Choose a super elegant satin bridesmaid dress only for $99.99 that will save so much on your budget. (2)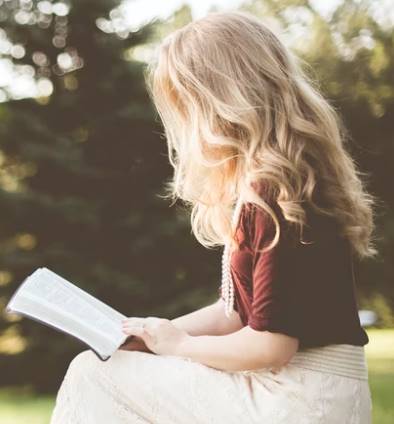 Speaks from heart, always too passionate and driven by emotions. Spins the words with kindness & sharpness, intriguing your ever-inscrutable minds.