Love has been an integral part for art inspirations. It has been one of the favourite themes among artists since art ever evolved, throughout history and geography. Art has been so expressive in the depiction of love, so there could be a more romantic way to express your love than with art. You'll be surprised to see how limitless art makes it for you to depict your love to your lover.
Art is one of the most heartfelt gifts you could give your lover. It awakens a real human experience making you feel like you are almost in that very moment. Couples tend to be overwhelmed while choosing the perfect gift for their other half, afterall it should be something really special. Trust me you never want to go wrong with this one! A timeless gift oriented with art would be the perfect way to mark your celebration of togetherness. Go for a customised painting from PortraitFlip to treasure your dreamy memories together. So this time around sweep them off their feet with these amazing custom portrait ideas for every romantic event. (1)
Couple Portraits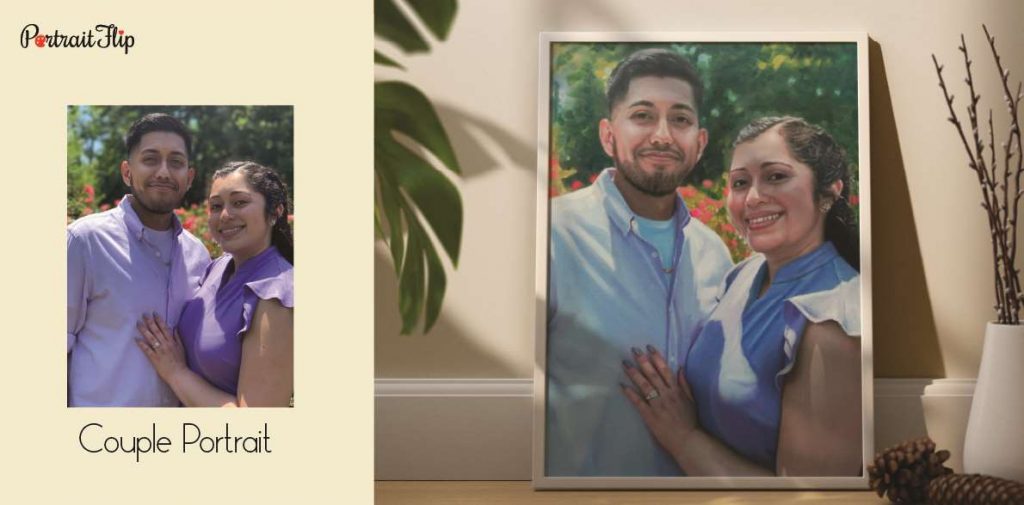 To Love and To Be Loved! Isn't it one of the most pristine feelings that ever existed in this world. Remember the feeling of the first time your eyes met, the first time your fingers touched, the first time you went on a date or the first kiss; these firsts are nothing but priceless. One thing you could do as a couple is treasure these moments you have spent together. A token of love that would be the perfect reminder of your love.
As a couple you need to constantly strive to go that extra mile to make your beloved feel special. This one's surely the key to a happy and successful relationship. Gift them something that would bring that big smile on their heart and warm their heart up. A custom couple portrait from PortraitFlip would be the best way to tell them how much they mean to you. So mark your eternal love story reminding your better half of your favourite memories together.
Wedding Portraits
From doing all the wedding preps together, to walking down that aisle till the time you say I DO it's an absolute rollercoaster of emotions. Your wedding day is probably one of the most special moments of your life. It comes and goes and you are so overwhelmed that you don't even realise till that time that it's finally happening! Once the D-Day is done with you just want to go back and relive those endless moments of happy tears and smiles.
The best way to seize your wedding day forever is by framing it forever through a custom wedding portrait. A portrait that would best justify your most special moment in your life from PortraitFlip. Weave your highest happiness in this world into a beautiful never ending tale of love with these wedding portraits. (2)
Anniversary Portraits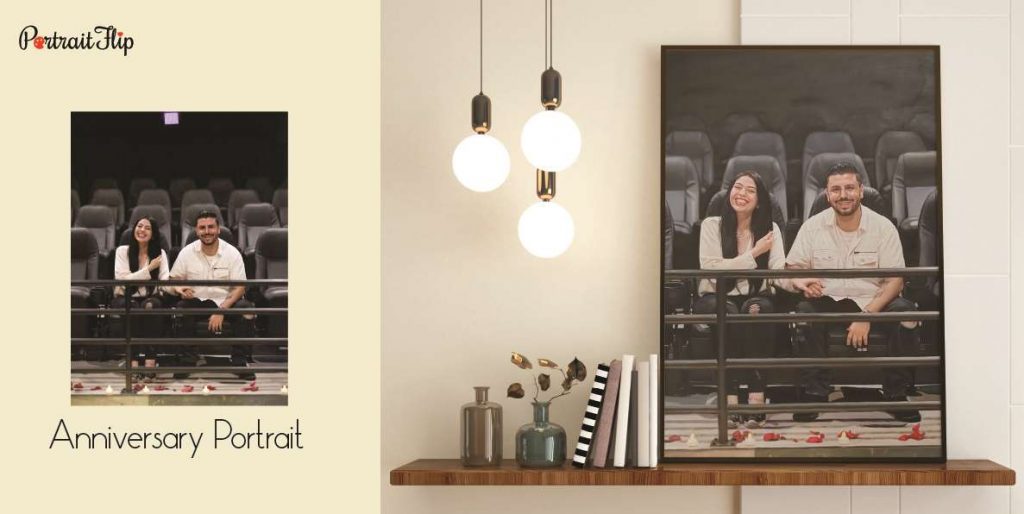 Every anniversary makes for a milestone in your life of all the days and years you have spent together. They are special for a reason and they ought to be celebrated. But when we are talking of a day so important we do not want to leave a stone unturned to make it the most memorable one. It's that time of the year when you should reminisce about the good days you have had together and reflect on the bad ones.
For this year's anniversary go for a custom anniversary portrait that found be like the best throwback you could have asked for!
Kiss Portraits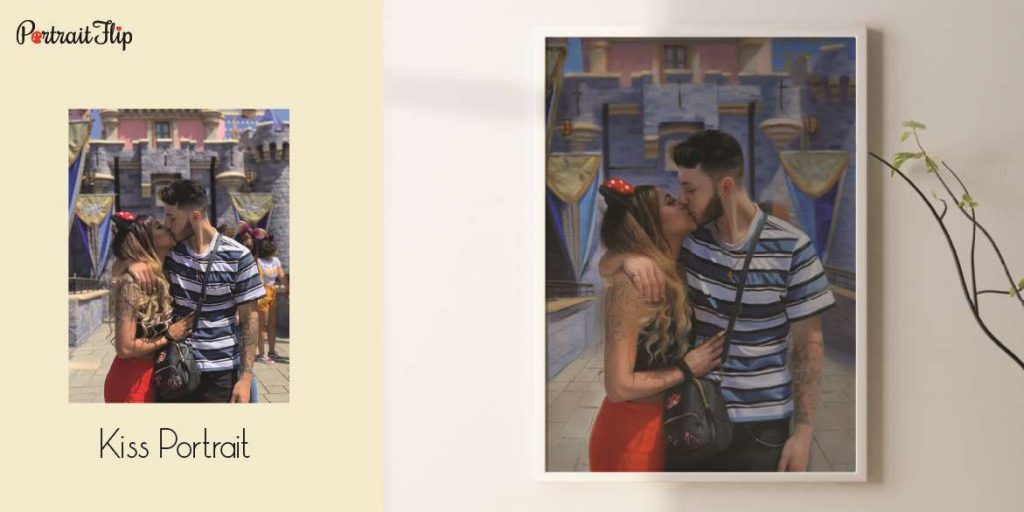 PortraitFlip is where you could get your kiss painted. They have some touching and display-worthy kiss portraits that ever existed. That very moment, so pure, so deep, a touch that gives chills to every inch of you. So many of us capture pictures of our proposal moments but we elevate that moment forever by capturing it in a custom painting.
Getting your precious intimate moment painted is not merely to seal a memory but it's more about the beautiful love story that is tied with it. A culmination of everything into one singular piece of that speaks volume is Kiss Portraits for me.
Proposal Portraits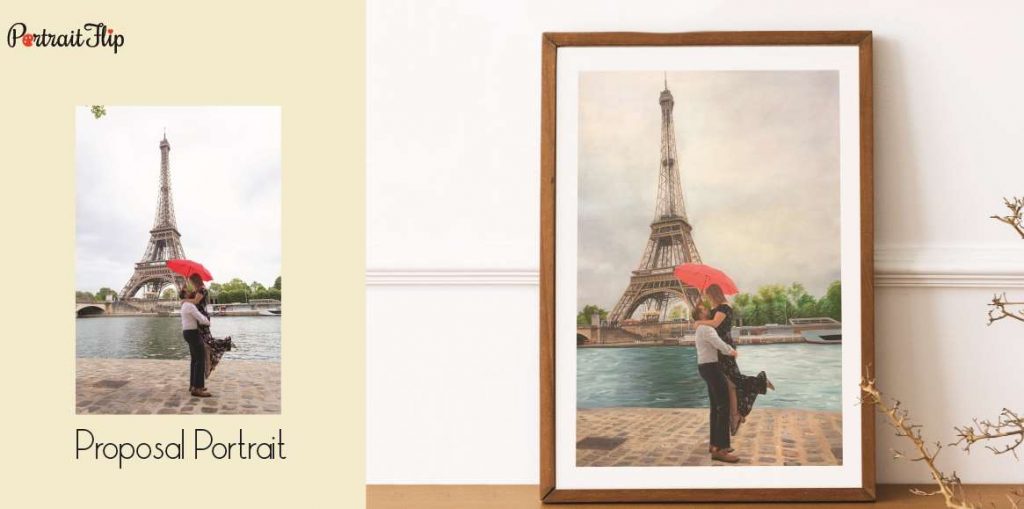 It's the moment when your relationship takes that big step ahead from now to forever. When the love of your life goes down on one knee to be with you for a lifetime. A moment so dreamy, fairytale like and beautiful that marks to be one your most memorable moments in life. It was a moment where you both realise that this is it, this is for life.
Wouldn't you want to treasure something so priceless, into an everlasting memory of your proposal day. What could be a better way to do that than with a proposal portrait. PortraitFlip will turn your precious proposal moment into a custom painting that you could preserve forever.
Final Thoughts
We share so many special moments of togetherness with our beloved other half. All you wish with every bit of your being is to keep those memories alive. Turning your cherished moments into paintings shows how much they mean to you. Art is the way to capture those emotions hidden behind the pictures into the perfect custom portraits. There is nothing more beautiful than seeing your favourite moments come to life with art.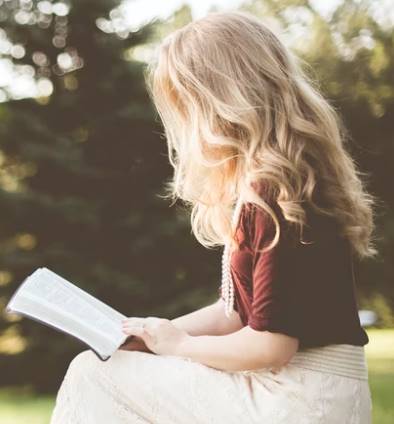 Speaks from heart, always too passionate and driven by emotions. Spins the words with kindness & sharpness, intriguing your ever-inscrutable minds.