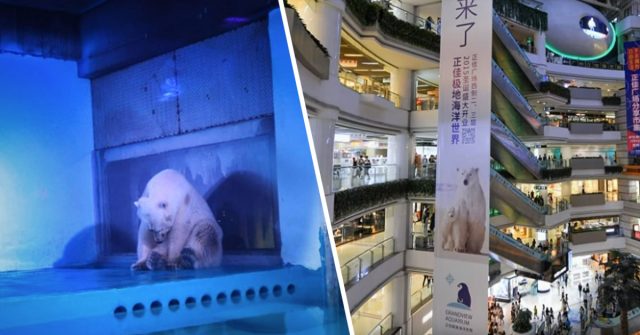 A polar bear that was kept in a glass-walled enclosure at an aquarium in the Grandview Mall in Guangzhou, southern China, was dubbed "The Saddest Polar Bear In The World" after a heartrending video of him went viral in no time.
The three-year-old polar bear, called Pizza, attracted the attention of many people around the globe after a video surfaced of him, lying alone in his bare, glass-walled enclosure at the mall. In the video, Pizza was slumped on his side and his mouth was quivering – a sight that broke the hearts of thousands of people around the world.
Another video footage showed the bear going back and forth, swinging his head, and biting and pawing at an air hole – behaviors which indicate distress and mental decline. To top it all off, the bear had to endure the constant camera flashes as visitors were trying to take pictures of him.
Animal lovers all over the world could not remain indifferent to the bear's misery. The Animals Asia Foundation launched a petition to shut the aquarium permanently which has attracted more than 500,000 signatures. In addition, 50 nonprofit organizations sent a letter to the governor of Guangzhou Province, Zhu Xiaodan, urging him to remove the bear from the aquarium.
Soon after the petition was signed, Grandview Mall announced that Pizza would temporarily be relocated to the place where he was born, which was later revealed to be Tianjin Haichang Polar Ocean World, an aquarium in northern China. And after Grandview Mall would finish upgrading Pizza's exhibit, the bear would return there.
Are you wondering where Pizza is now?
Well, here's some good news: This cute polar bear has not returned to his 'showcase.' In fact, his old exhibit has been shut down indefinitely. And Pizza … He's remained at the aquarium in Tianjin with his mom. Finally, this lovely polar bear has managed to see some sunlight and find happiness.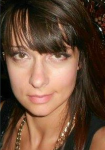 Riley Cooper is a professional writer who writes informative and creative articles on topics related to various fields of study. Written with love and enthusiasm, her articles inspire readers to broaden their knowledge of the world, think and get ready to act. If you have a general question or comment please fill out the form and we will get back to you as soon as possible https://curiousmindmagazine.com/contact-us/